Covid-19 Update and Our Services
We are pleased to announce that we are now able to resume some of our services
Your safety remains our priority which is why we are implementing infection control guidance and use of Personal Protection Equipment (PPE), as instructed by government guidelines. This is to ensure that the risk of you getting an infection while you are having rehabilitation is as low as possible.
We have made changes to how we operate and have implemented some new procedures before and during your assessment/treatment in order to maintain safety to you (the patient), your family and carers, and our staff.
Fill Out this Form to Express Interest in a Video Consultation
Neurotherapy Services We Provide
Patient Centric
Motivational, personalised and tailored care, based on your individual goals and fully adapted to your abilities
Multi Skilled Team
Experts working together in full communication delivers the fastest and best outcomes
Fully Experienced
With extensive, hands on practical career experience of working in hospitals, clinics and the community
Why Trust Us for Your Treatment?
Qualified Specialists
Fully HCPC, CSP, Physio First, CPD, DBS, BOBATH accredited with proof of up date memberships upon request

Innovative Therapies

By staying ahead of cutting edge industry treatments, we bring you new and unique support and options
Trust Us with your Data
We've invested in the latest, GDPR compliant IT systems for accurate patient record keeping

Neurological Problems We Help With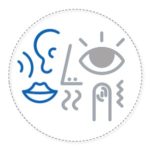 Neurological Conditions We Support
• Alzheimer's Disease
• Balance Problems
• Brain Injury
• Brain Tumours
• Cerebral Palsy
• Dementia
• Functional Neurological Disorder
• Guillain-Barré Syndrome
• Hereditary Ataxias
• Motor Neurone Disease
• Multiple Sclerosis
• Muscular Dystrophy
• Parkinson's Disease
• Peripheral Neuropathy
• Spinal Deformity and Injury
• Stroke
What are the Benefits of Using Our Team?
Self Funded Patients
Quick assessment – Immediate access to specialist care
1-2-1 care – Individualised care right from the start
Book straight into our clinic – no need to be referred or qualify for treatment
Always on time – Never miss your appointment with our text reminders
Multi Skilled Team – Supportive treatments for brain injury and conditions
Tailored care plans based on your personal goals
Consultants & Medical

Solid NHS experience – Both in hospital settings, clinics and within the community
We provide regular updates – Using state of the art patient record software to maintain excellent records
Stay up to date – We communicate all treatment plans & outcomes to you regularly
Continuous research in our field – We stay ahead of cutting edge industry technologies, delivering new and unique treatment options
Case Managers

Following assessment, we provide a comprehensive report detailing the treatment plan
Multi Skilled Team – Access supportive brain injury treatments within our team
Interim Reports – Understanding the long life cycles of insurance claims & brain injury rehabilitation, we provide bite sized reports
Training for support workers & the entire support team, with monitoring & progress updates
What Does Tailored Care Mean?
A Hands on Treatment Plan
Your treatment plan evolves around you – Entirely bespoke way of adapting movements
Incremental Goals
Your goals are adapted as your personalised treatment plan evolves and incremental goals are achieved
Your Confidence Levels
Supportive equipment is adapted to you and your individual confidence levels, abilities and goals
Your Own Personal Motivations
Based on goals that each individual person is actually motivated to achieve
'Sarah's therapy input has enabled me to maintain my independence around the home, within my place of work and socially. Her 'hands on' therapy approach has helped reduce muscle tightness and improve joint range of movement'
'Following my accident, I was struggling to walk and in lots of pain. Sarah's input enabled me to make short term goals to help achieve the long term aim of regaining my independence. Sarah found the right personal trainer for me & completed joint sessions to ensure I was getting the best out of my rehabilitation'
'Before I met Sarah I was unable to use my left arm. After treatment with Sarah, I feel I can now use my left arm for some every day tasks and my hand now feels like it belongs to me!'
Contact Our Expert Neurotherapy Team