What Is Neurological Speech and Language Therapy?
Speech and Language therapists work with individuals whose speech, language, swallowing and eating is affected following a brain or spinal injury or neurological condition.
Speech and Language therapists help people to overcome swallowing and communication difficulties. Brain injury can cause impairment of speech, language and swallowing abilities.
How Our Speech Therapist Helps You
The Speech and Language therapist assesses these problems and informs the rehabilitation team and family about suitable communication methods as well as advise about food and fluid consistency. Speech and Language therapists work with the individual to develop verbal and non-verbal strategies of communication.
Patient Centric
Motivational, personalised and tailored care, based on your individual goals and fully adapted to your abilities
Multi Skilled Team
 Experts working together in full communication delivers the fastest and best outcomes
Fully Experienced
With extensive, hands on practical career experience of working in hospitals, clinics and the community
Why Trust Us for Your Treatment?
Qualified Specialists
Fully HCPC, CSP, Physio First, CPD, DBS, BOBATH accredited with proof of up date memberships upon request

Innovative Therapies

By staying ahead of cutting edge industry treatments, we bring you new and unique support and options
Trust Us with your Data
We've invested in the latest, GDPR compliant IT systems for accurate patient record keeping

Neurological Problems We Help With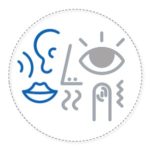 Neurological Conditions We Support
• Alzheimer's Disease
• Balance Problems
• Brain Injury
• Brain Tumours
• Cerebral Palsy
• Dementia
• Functional Neurological Disorder
• Guillain-Barré Syndrome
• Hereditary Ataxias
• Motor Neurone Disease
• Multiple Sclerosis
• Muscular Dystrophy
• Parkinson's Disease
• Peripheral Neuropathy
• Spinal Deformity and Injury
• Stroke
What Does Tailored Care Mean?
A Hands on Treatment Plan
Your treatment plan evolves around you – Entirely bespoke way of adapting movements
Incremental Goals
Small goals are adapted as your personalised treatment plan evolves and incremental goals are achieved
Your Confidence Levels
Supportive equipment is adapted to you and your individual confidence levels, abilities and goals
Your Own Personal Motivations
Based on goals that each individual person is actually motivated to achieve
Contact Our Expert Neurotherapy Team