What Is Neurological Occupational Therapy?
Occupational therapy promotes health and rehabilitation through the performance of everyday activities. By minimizing the impact of a person's disability, occupational therapy aims to enable and empower people to improve their functional performance, so they can participate in their daily lives. Our team's focus is always on improving independence while performing activities of daily living and we arrange for the provision of supportive equipment and adaptations of your surroundings to make everyday tasks much easier.
How Our Occupational Therapist Helps You
Our Occupational therapists work closely with our patients to understand what functional goals they want to achieve. Our Occupational Therapist's role can provide support and advice for individuals and their families on issues around work, leisure and education.
Patient Centric
Motivational, personalised and tailored care, based on your individual goals and fully adapted to your abilities
Multi Skilled Team
Unified experts working together in full communication delivers the fastest and best outcomes
Fully Experienced
With extensive, hands on practical career experience of working in hospitals, clinics and the community
Why Trust Us for Your Treatment?
Qualified Specialists
Fully HCPC, CSP, Physio First, CPD, DBS, BOBATH accredited with proof of up date memberships upon request

Innovative Therapies

By staying ahead of cutting edge industry treatments, we bring you new and unique support and options
Trust Us with your Data
We've invested in the latest, GDPR compliant IT systems for accurate patient record keeping

Neurological Problems We Help With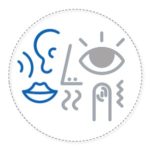 Neurological Conditions We Support
• Alzheimer's Disease
• Balance Problems
• Brain Injury
• Brain Tumours
• Cerebral Palsy
• Dementia
• Functional Neurological Disorder
• Guillain-Barré Syndrome
• Hereditary Ataxias
• Motor Neurone Disease
• Multiple Sclerosis
• 
• Muscular Dystrophy
• Parkinson's Disease
• Peripheral Neuropathy
• Spinal Deformity and Injury
• Stroke
• 
What Does Tailored Care Mean?
A Hands on Treatment Plan
Your treatment plan evolves around you – Entirely bespoke way of adapting movements
Incremental Goals
Small goals are adapted as your personalised treatment plan evolves and incremental goals are achieved
Your Confidence Levels
Supportive equipment is adapted to you and your individual confidence levels, abilities and goals
Your Own Personal Motivations
Based on goals that each individual person is actually motivated to achieve
Contact Our Expert Neurotherapy Team